Bandai Cheetara 6" Collectors Figure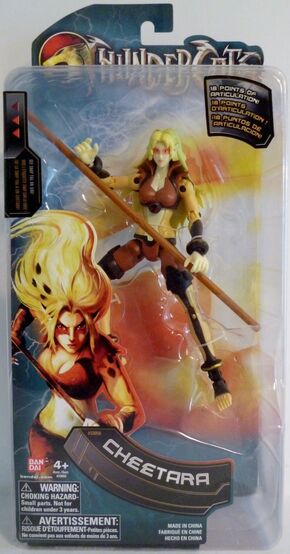 Cheetara was one of the first figures in the 6 inch Collectors Action Figure sub-line produced by Bandai Toys as part of their toyline based on the ThunderCats (2011) cartoon series. The figure was based on the cartoon version of Cheetara (2011).
Just like other figures in the sub-line, the Cheetara figure stood 6 inches tall and had many points of articulation. The figure also came together with weapons and accessories.
1. Poseable limbs, head and torso: The figure had 18 points of articulation in various parts of its body. This allowed the figure to be posed in a variety of action poses.
AccessoriesEdit
1. Bo Staff: Made of brown plastic, the Bo Staff was similar in appearance to its cartoon counterpart and was designed to fit into the figure's hands.
Ad blocker interference detected!
Wikia is a free-to-use site that makes money from advertising. We have a modified experience for viewers using ad blockers

Wikia is not accessible if you've made further modifications. Remove the custom ad blocker rule(s) and the page will load as expected.