Bandai Classic Lion-O 8" Figure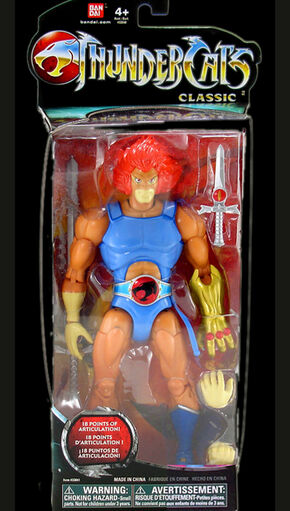 Official BlurbEdit
"In the Classic series, Lion-O is a fierce defender of freedom and a brave and noble leader, one that the other ThunderCats are proud to stand beside. This highly detailed figure is stylized after the 1980's animated cartoon series. Lion-O figure includes: the Sword of Omens (Long Sword), Sword of Omens (Short Sword), Claw Shield and extra posed hand. Lion-O stands at 8" tall. Also has 18 points of articulation. The perfect figure for the ultimate collector".
Product DescriptionEdit
Following their 6" Classics Line, Bandai present their even bigger 8" ThunderCats Classics Line, starting with Lion-O. Standing a full 2" taller than his 6" couterpart, the Lion-O figure is highly detailed and based on the 1980s version of the character. With cartoon accurate colors, the Lord of the ThunderCats comes complete with 18 points of articulationas well as two Sword of Omens, the Claw Shield and an extra posed hand.
VariationsEdit
Two variations of the 8" Lion-O were produced by Bandai. Both of these were convention exclusives.
Loose Lion-O 8"
Figure
Back of the box
Ad blocker interference detected!
Wikia is a free-to-use site that makes money from advertising. We have a modified experience for viewers using ad blockers

Wikia is not accessible if you've made further modifications. Remove the custom ad blocker rule(s) and the page will load as expected.