Bandai Classic Lion-O 8" Figure SDCC Exclusive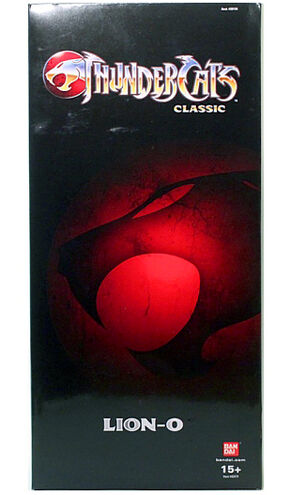 Official BlurbEdit
"Bandai America is proud to present ThunderCats and its classic action hero, Lion-O, as an exclusive figure for San Diego Comic Con (SDCC) 2011. The LionO ComicCon exclusive figure stands 8 inches, is highly detailed and has 18 points of articulation. LionO comes with features exclusive to SDCC, including a sword stand and an all new metallic look, in addition to his iconic Sword of Omens (in two sizes), Claw Shield and extra posed hand".
Product DescriptionEdit
Following their 6" Classics Line, Bandai present their even bigger 8" Classics Line. This variant of the Classic 8" Lion-O was available exclusively at the 2011 San Diego Comic Convention. While the basic figure was the same as the Classic 8" Lion-O Figure, it had an all new paint application which gave the figure's costume a metallic sheen. The figure also had it's muscles defined further by paint application. Apart from the same accessories as the normal 8" figure, the SDCC Exclusive Lion-O also came packaged with a purple Sword Stand.
Loose SDCC 8"
Lion-O Figure
Ad blocker interference detected!
Wikia is a free-to-use site that makes money from advertising. We have a modified experience for viewers using ad blockers

Wikia is not accessible if you've made further modifications. Remove the custom ad blocker rule(s) and the page will load as expected.