Bandai Classic Lion-O 8" Figure STGCC Exclusive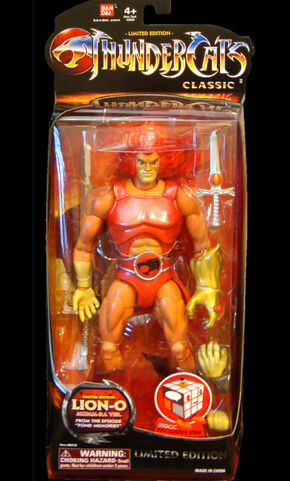 Official blurb
Edit
"ThunderCats hooo! In collaboration with Bandai Asia, The Falcon's Hangar is proud to present the STGCC (Singapore Toy, Game & Comic Convention) 2012 8" Thundercats Lion-O (Mumm-Ra Version) exclusive! Never produced in nearly 3 decades of ThunderCats history, he is now making his worldwide debut! Lion-O (Mumm-Ra Version) will come in STGCC 2012 exclusive packaging with a bonus weapons pack of chrome weapons and a weapons rack. Disguised as Dr. Dometone, Mumma-Ra Lures Lion-O to a gallery of the Thundercats accomplishments where he must battle four of his most formidable enemies Rator-O, Safari Joe, Slithe & Spidera. Once the other Thundercats arrive, they end up in trouble and Lion-O is confronted by Mumma-Ra who turns himself into a carbon copy of Lion-O. It's Lion-O Vs. Lion-O and they are both evenly matched until Lion-O shows Mumma-Ra his reflection and banishes him with the sword of omens".
Product description
Edit
Following their 6" Classics Line, Bandai present their even bigger 8" Classics Line. This variant of the Classic 8" Lion-O was available exclusively at the 2012 Singapore Toy, Game & Comic Convention with less than a 1000 pieces produced. While the basic figure was the same as the Classic 8" Lion-O Figure, it had an all new paint application which gave the figure's costume a red color. Based on the 1980s cartoon series, this particular figure was based on the "Evil Lion-O" or "Mumm-Ra Lion-O" from the episode Fond Memories. In this episode, Mumm-Ra takes on the guise of Lion-O but has a red costume instead of blue. Apart from the same accessories as the normal 8" figure, the SDCC Exclusive Lion-O also came packaged with a red Sword Stand and the swords were given a chrome paint application.
Loose STGCC 8"
Lion-O Figure
Back of the box
Ad blocker interference detected!
Wikia is a free-to-use site that makes money from advertising. We have a modified experience for viewers using ad blockers

Wikia is not accessible if you've made further modifications. Remove the custom ad blocker rule(s) and the page will load as expected.