Bandai Ultimate Figure Pack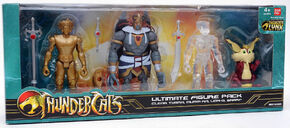 Ultimate Figure Pack was a special 4 figure pack that was released in 2011 by Argos. Argos, which is one of the largest chain of discount retail stores in the U.K., released this 4 figure pack. This pack was an Argos exclusive release and hence was not available in any other stores.
The pack included 4 figures from the Bandai 4 Inch Line line based on the ThunderCats (2011) cartoon series. These figures were:
All of the figures came together with the accessories that were included with the solo release of the figure. Apart from Mumm-Ra, none of the figures were released as solo figures. They all came packaged together with vehicles and playsets.
Ad blocker interference detected!
Wikia is a free-to-use site that makes money from advertising. We have a modified experience for viewers using ad blockers

Wikia is not accessible if you've made further modifications. Remove the custom ad blocker rule(s) and the page will load as expected.