Brackenberries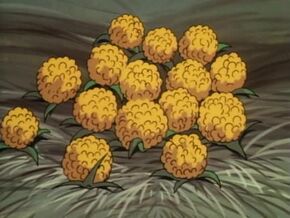 Deadly Brackenberries are a type of fruit that grow on Third Earth. These small yellow colored berries look like raspberries in appearance. The Brackenberries grow near the cave of Kudi on the outskirts. They are highly poisonous and consuming them makes the person feel sick before eventually dying. They are similar in appearance to "Braxenberries" which are not poisonous.
When the ThunderKittens ran away from home and stumbled upon Kudi's cave, they plucked the Deadly Brackenberries and consumed them, mistaking them for Braxenberries. Both of them fell terribly ill and would have died but Kudi arrived just in time to save them. She plucked the leaves of a nearby plant and fed the ThunderKittens the liquid found in those leaves which had a neutralizing effect on the poison of the Brackenberries.
AppearnacesEdit
Ad blocker interference detected!
Wikia is a free-to-use site that makes money from advertising. We have a modified experience for viewers using ad blockers

Wikia is not accessible if you've made further modifications. Remove the custom ad blocker rule(s) and the page will load as expected.