Brandon Easton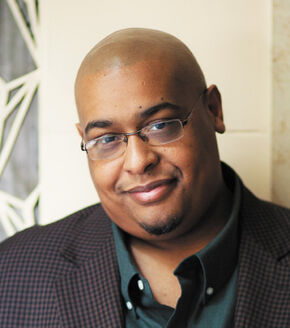 Details
Role
writer
Country
U.S.A., Los Angeles
Other Works
Transformers Rescue Bots
Marvel's Agent Carter

Page
List of all Cast & Crew
Brandon M. Easton is an American writer, screenwriter and educator who wrote one episode of the 2011 rebooted series of ThunderCats.
Born and raised in Baltimore, MD, Easton is a graduate of Ithaca College where he earned a B.A. in Sociology, Boston University where he earned an M.F.A in Screenwriting and Lehman College where he earned a Masters of Education in History.
Easton taught U.S. History and Economics in the Bronx and Harlem, New York for six years until he was hired by Warner Brothers to work on the rebooted ThunderCats TV show as well as Hasbro's new show "Transformers: Rescue Bots".
Easton is also an accomplished graphic novel creator. His published works includes "Arkanium" and "Transformers: Armada" for "Dreamwave Productions", "Shadowlaw", from "Arcana/Platinum Studios" and multiple titles for Lion Forge Comics, including a highly-anticipated Andre the Giant graphic novel biography.
In 2014, Brandon produced, directed and wrote the documentary "Brave New Souls: Black Sci-Fi and Fantasy Writers of the 21st Century" that highlights the inspirations, struggles and creations of a new crop of African-American speculative fiction scribes.
Episodes WrittenEdit
24. The Soul Sever
Ad blocker interference detected!
Wikia is a free-to-use site that makes money from advertising. We have a modified experience for viewers using ad blockers

Wikia is not accessible if you've made further modifications. Remove the custom ad blocker rule(s) and the page will load as expected.