Captain Bizzarly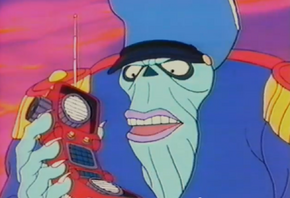 Captain Bizzarly is a pirate with aqua-phobia, who controlled all crime-related activities on the vast oceans of Water-O until the Waterians froze him and his crew many years ago. T-Ray freed him and his men expecting them to help him. However, Bizzarly promptly betrayed T-Ray. Captain Bizzarly now constantly tries to get rid of the TigerSharks and regain control of the oceans of Water-O.
Ad blocker interference detected!
Wikia is a free-to-use site that makes money from advertising. We have a modified experience for viewers using ad blockers

Wikia is not accessible if you've made further modifications. Remove the custom ad blocker rule(s) and the page will load as expected.