Cosmocats Berbil Bert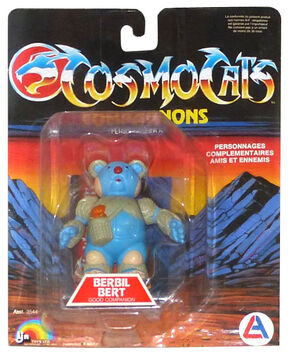 Berbil Bert was one of the first ThunderCats action figures produced in the second series of ThunderCats toys by Al-Es. Even though the figure was based on the cartoon version of Ro-Bear Bert, its color scheme (yellow fur) was actually that of Ro-Bear Bob. Ro-Bear Bert had blue colored fur.
Standing a solid 4 inches tall, the Berbil Bert figure had poseable arms and head, thanks to 3 points of articulation.
The Berbil Bert figure was released as a member of the ThunderCats "Companions" sub-line which included the ThunderKittens, the Berbils, Snarf and Ma-Mutt. The Companion figures were packaged on slightly smaller backing cards than the adult ThunderCats figures. Also the cards were illustrated with a scenic mountain landscape.
Al-Es made and/or repackaged the LJN ThunderCats toys for the Italian and French markets. In France, their toys' packaging had "Cosmocats" printed on them instead of "ThunderCats".
Poseable arms and head: The Berbil Bert figure had 3 points of articulation, 2 at the shoulders and 1 at the neck. These points allowed the figure to be posed in a variety of action poses.
Cosmocats vs LJN
Edit
The Cosmocats Berbil Bert was identical in every aspect to its LJN counterpart. Only the packaging was different.
Foreign Variations and Releases
Edit
Berbil Bert Loose
(front)
Berbil Bert Loose
(back)
Ad blocker interference detected!
Wikia is a free-to-use site that makes money from advertising. We have a modified experience for viewers using ad blockers

Wikia is not accessible if you've made further modifications. Remove the custom ad blocker rule(s) and the page will load as expected.