Cosmocats Ma-Mutt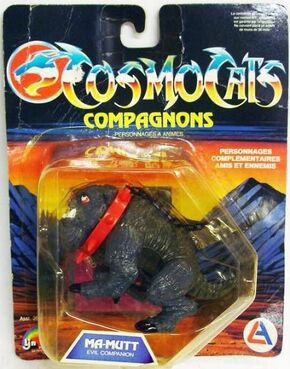 Ma-Mutt was one of the first ThunderCats action figures produced in the second series of ThunderCats toys by Al-Es. The figure was based on the original 1980s cartoon version of Ma-Mutt.
Standing a solid 3 inches tall, the Ma-Mutt figure had poseable arms, legs, and head, thanks to 5 points of articulation.
This particular Ma-Mutt figure was released as a member of the ThunderCats "Companions" sub-line which included the ThunderKittens, the Berbils, Snarf and Ma-Mutt. The Companion figures were packaged on slightly smaller backing cards than the adult ThunderCats figures. Also the cards were illustrated with a scenic mountain landscape.
Al-Es made and/or repackaged the LJN ThunderCats toys for the Italian and French markets. In France, their toys' packaging had "Cosmocats" printed on them instead of "ThunderCats".
Poseable limbs and head: The Ma-Mutt figure had 5 points of articulation, 2 at the shoulders, 2 at the hips, and 1 at the neck. These points allowed the figure to be posed in a variety of action poses.
Cosmocats vs LJNEdit
The Cosmocats Ma-Mutt was identical in every aspect to its LJN counterpart. Only the packaging was different.
One thing to note is that while LJN produced two variations of Ma-Mutt, one with a silver chain and one with a black, plastic chain, Cosmocats only made the black, plastic chain version.
Foreign Variations and ReleasesEdit
Ma-Mutt Loose
(front)
Ma-Mutt Loose
(side)
Ad blocker interference detected!
Wikia is a free-to-use site that makes money from advertising. We have a modified experience for viewers using ad blockers

Wikia is not accessible if you've made further modifications. Remove the custom ad blocker rule(s) and the page will load as expected.