Crownan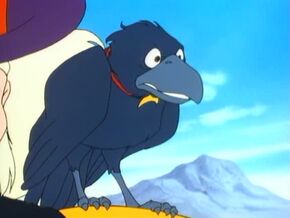 Crownan is the sole compatriot of the intergalactic bounty hunter Captain Bragg. He is a talking crow who helps to sell his master's tricks by convincing their unsuspecting victims. Like Bragg, Crownan also has the ability to hypnotize people by rotating his eyes in opposite directions. He travels with Bragg in their locomotive-like spaceship, the Circus Train.
AppearancesEdit
Ad blocker interference detected!
Wikia is a free-to-use site that makes money from advertising. We have a modified experience for viewers using ad blockers

Wikia is not accessible if you've made further modifications. Remove the custom ad blocker rule(s) and the page will load as expected.