Dee Bradley Baker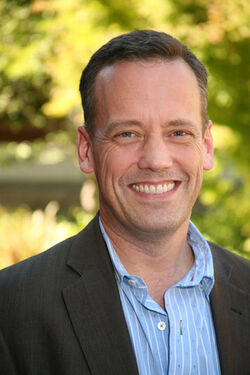 Details
Role
voice actor
Country
U.S.A., Los Angeles
Born
August 31, 1962
Spouse
Michelle Baker
Other Works
American Dad
Star Wars: The Clone Wars
Space Jam
Ben 10
Page
List of all Cast & Crew
Dee Bradley Baker is an American voice actor. He provided the voice of Slithe, Kaynar and Ro-Bear Bill in the rebooted ThunderCats animated series.
Born in Bloomington, Indiana, Baker grew up in Greeley, Colorado and began performing at age nine and steadily worked in musicals, operas, plays, and stand-up. After completing his studies he moved to California where he began doing voice work for animated shows.
His first major character was Cow & Chicken's dad in the "Cow & Chicken" and "I.M. Weasel" cartoons. He also provided the voices of Daffy Duck and Taz in the live-action movie "Space Jam".
Since then Baker has worked in numerous shows including "The Real Adventures of Johnny Quest", "Johnny Bravo", "Dexter's Laboratory", and "The Powerpuff Girls".
Baker has also lent his voice to many Disney shows like "My Friends Tigger and Pooh" "Mickey Mouse Clubhouse".
Characters VoicedEdit
Ad blocker interference detected!
Wikia is a free-to-use site that makes money from advertising. We have a modified experience for viewers using ad blockers

Wikia is not accessible if you've made further modifications. Remove the custom ad blocker rule(s) and the page will load as expected.