Feerits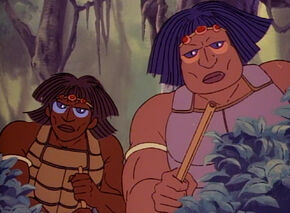 Feerits are a tribe of aboriginal people that live in the forests of Third Earth. Their territory is located near the River of Despair and just a short distance away from the Treetop Kingdom of the Warrior Maidens. Their village is surrounded by dangerous creatures and plants like the Mandroga Flower.
They are fiercely territorial and will attack any intruders who trespasses on their home ground. They are armed with Poison Blow Darts which they can shoot with deadly accuracy.
Lion-O encounters the Feerits during his second Anointment Trial when he unknowingly passes by their territory. They shower him with Poison Darts but fortunately he upturns his pod canoe and uses it as a shield.
AppearancesEdit
037. Lion-O's Anointment Second Day: The Trial of Speed
Ad blocker interference detected!
Wikia is a free-to-use site that makes money from advertising. We have a modified experience for viewers using ad blockers

Wikia is not accessible if you've made further modifications. Remove the custom ad blocker rule(s) and the page will load as expected.