Fred Tatasciore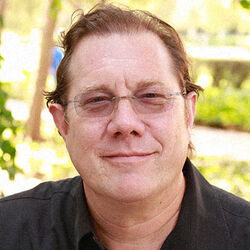 Details
Role
voice actor
Country
U.S.A., Los Angeles
Spouse
Michelle Baker
Other Works
Ultimate Avengers
Next Avengers
Hulk Vs
Avengers Assemble
Page
List of all Cast & Crew
Frederick "Fred" Tatasciore is an American voice actor. He provided the voice of Tookit and Dobo in the rebooted ThunderCats animated series.
Born in New York City, Tatasciore has made a name for himself voicing villainous and monstrous characters on animated TV shows, thanks to his deep booming voice. His most popular role is that of the Hulk in the various Marvel animated shows.
He has also done work on famous animated shows like "Sofia the First", "Family Guy", "Teenage Mutant Ninja Turtles", "Voltron", and "Powerpuff Girls"
Apart from animated TV shows, Tatasciore has also lent his voice to numerous anime shows as well as video games.
Characters VoicedEdit
He provided the voice of a Stormtrooper in the movie "Star Wars: The Force Awakens".
He used to perform stand-up comedy before he became a full-time voice actor.
Ad blocker interference detected!
Wikia is a free-to-use site that makes money from advertising. We have a modified experience for viewers using ad blockers

Wikia is not accessible if you've made further modifications. Remove the custom ad blocker rule(s) and the page will load as expected.