Funko POP! Vinyl Action Figure Panthro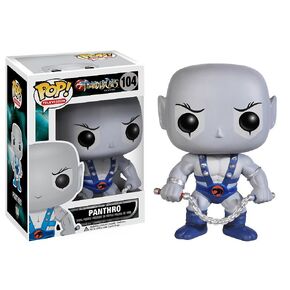 Official blurbEdit
"As the next noble and greatest warrior after Jaga and designated mechanic of the ThunderCats, Panthro makes his way to the Pop. Vinyl line. Based on the classic ThunderCats animated series".
Product descriptionEdit
Part of the POP! Vinyl Figures Toyline made by Funko, Panthro is modeled in a Japanese chibi style and comes packaged in a window display box. Standing 3.75 inches high and made of vinyl, Panthro is based on the his 1980s ThunderCats cartoon counterpart and sports the same color scheme. Armed with his Nunchucks in his hands and his shoulder spikes ready to strike, Panthro is ready to do battle against evil.
Ad blocker interference detected!
Wikia is a free-to-use site that makes money from advertising. We have a modified experience for viewers using ad blockers

Wikia is not accessible if you've made further modifications. Remove the custom ad blocker rule(s) and the page will load as expected.