Funko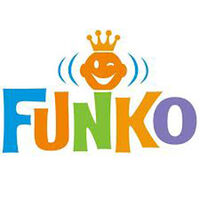 Details
Country
U.S.A
Years Active
1998 - present
Industry
Toys and Electronic items
Headquarters
Everett, Washington
Founder
Mike Becker
Licensed Properties
ThunderCats, Star Trek, Simpsons, Flintstones, Star Wars, Garfield, Marvel, Disney
Funko (or FunKo, a play on the words "Fun" and "Company") is an American toy company that specializes in producing a wide array of licensed pop culture toys. Popularly known for producing licensed bobbleheads, Funko has so far manufactured over 1000 different bobbleheads. In addition Funko produces licensed plush, vinyl figures, action figures, and licensed electronic items such as USB drives, lamps and headphones.
Funko was founded in 1998 by Mike Becker. Becker originally conceived the company as a small project to bring back various nostalgia-themed toys. The first bobblehead manufactured by Funko was of the restaurant advertising icon known as "Big Boy". With the success of this initial creation, a line of "Wacky Wobblers" was created which went on to become extremely popular and became Funko's signature creation.
Sold in 2005, Funko LLC is now headed by Brian Mariotti as president. Since 2005, the company has increased the scope of unique toy lines, and has signed major licensing deals with Lucasfilm, Marvel, Hasbro, Elvis Presley, CBS, FOX, Warner Bros, Disney, Microsoft, HBO, etc. Funko products now have worldwide distribution and the company has bobblehead sales in excess of 10 million units.
Some of the popular licensed properties made by Funko include ThunderCats, Star Trek, Simpsons, Flintstones, Star Wars, Garfield, Marvel, and Disney among others.
POP! Vinyl FiguresEdit
Since its inception, Funko has created a number of different toylines. One of those lines is the "POP! Vinyl Figures" line which consists of 3.75 inches tall vinyl figures of popular characters modeled in a Japanese chibi style. Over 33 different from various franchises with ThunderCats being one of them.
So far, Funko has released 5 ThunderCats characters in their POP! Vinyl Figure toyline which are Lion-O, Cheetara, Panthro, Snarf and Mumm-Ra. All 5 have been based on the their respective character's appearance in the original 1980s ThunderCats cartoon series. The figures are:
Ad blocker interference detected!
Wikia is a free-to-use site that makes money from advertising. We have a modified experience for viewers using ad blockers

Wikia is not accessible if you've made further modifications. Remove the custom ad blocker rule(s) and the page will load as expected.