Glasslite Skycutter
(Nave Navalha)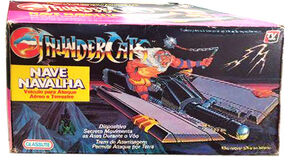 SkyCutter was one of the first ThunderCats vehicles produced by Glasslite Toys. The vehicle was based on the original 1980s cartoon version of SkyCutter. The SkyCutter had action features as well as moving wheels. The vehicle could seat one ThunderCats figure.
Battle-Matic Action: The Mutant vehicle had mechanical flapping wings which were controlled by pressing its back wheel. To transform the vehicle into its "Ground Attack Mode", the two wheels at the end of its wings were flipped, allowing it to be driven on land.
The SkyCutter had the capacity to seat only one figure (not included). None of its Battle-Matic actions required any batteries to operate.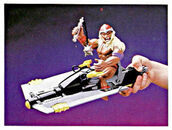 Battle-Matic Action
AccessoriesEdit
1.Two Wings: The SkyCutter came with two plastic grey wings which would be fitted onto the left and right side of the vehicle.
2.Instruction Sheet: The SkyCutter also came with an Instruction Sheet which had all the necessary assembly directions along with illustrations.
3.Sticker Sheet: Included with the vehicle was a small sticker sheet with two "Mutant Insignia" stickers which were to be applied to each of the wings.
| | | |
| --- | --- | --- |
| | | |
| Two Wings | Instruction Sheet | Sticker Sheet |
Glasslite vs LJNEdit
Even though the Glasslite vehicle used the same basic design of the LJN vehicle, there were some differences between the two:
Handlebar Tubes: While the LJN Handlebar tubes were light purple in color, the Glasslite Skycutter had red colored tubes.
Foreign Variations and ReleasesEdit
Ad blocker interference detected!
Wikia is a free-to-use site that makes money from advertising. We have a modified experience for viewers using ad blockers

Wikia is not accessible if you've made further modifications. Remove the custom ad blocker rule(s) and the page will load as expected.