Glasslite Thunderclaw
(Thunderjet)

Thunderclaw was one of the first ThunderCats vehicles produced in the second series of ThunderCats toys by Glasslite Toys. The vehicle was based on the original 1980s cartoon version of Thunderclaw. The Thunderclaw had action features and could seat one ThunderCats figure.
Battle-Matic Action: The vehicle's action feature involved its wings turning into giant grabbing claws. When a button at the back of the Thunderclaw was pressed, the wings would snap downwards, closing in and grabbing any figure within their reach.
The Thunderclaw had the capacity to seat only one figure (not included with the vehicle). The Battle-Matic action of this vehicle did not require any batteries to function.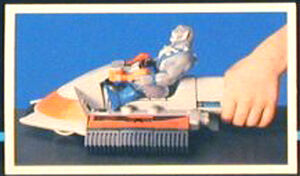 Battle-Matic Action
Accessories
Edit
1.Two Handlebars: The Thunderclaw came with two plastic orange handlebars which would be fitted onto the left and right side of the vehicle.
2.Instruction Sheet: The Thunderclaw also came with an Instruction Sheet which had all the necessary assembly directions along with illustrations.
3.Sticker Sheet: Included with the vehicle was a small sticker sheet with two "Thundercats Insignia" stickers which were to be applied to each of the wings.
| | | |
| --- | --- | --- |
| | | |
| Two Handlebars | Instruction Sheet | Sticker Sheet |
Glasslite vs LJNEdit
Even though the Glasslite vehicle used the same basic design of the LJN vehicle, there were some differences between the two:
Screws: While the front and back halves of the LJN vehilces were glued together, the Glasslite vehicles were joined together by three screws. Thus on the back of all Glasslite vehicles are visible three screw holes.
Foreign Variations and Releases
Edit
Ad blocker interference detected!
Wikia is a free-to-use site that makes money from advertising. We have a modified experience for viewers using ad blockers

Wikia is not accessible if you've made further modifications. Remove the custom ad blocker rule(s) and the page will load as expected.