Grand Toys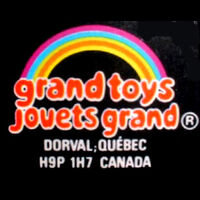 Details
Country
Canada
Industry
Toys and Stationery
Headquarters
Dorval Quebec
Licensed Properties
ThunderCats
Grand Toys (Jouets Grand) is a toy distributing company that is based in Canada. The company, which has been operating for over 45 years, does not manufacture toys but rather distributes the toys that it has imported under licensing and distribution agreements that it has made with various toy companies from all over the world.
The main head office of Grand Toys is situated at 1710 Trans-Canada Highway, Dorval, QC, H9P 1H7, in Quebec. Grand Toys has many subsidiaries in different parts of the world and in many cities in Canada such as Grand Concepts Inc. in Ontario and Grand Toys International in Montreal. Through these subsidiaries, the company develops and distributes the outsourced manufacturing of toy and toy-related products in different parts of the world.
Apart from distributing licensed toys, the company also prints and assembles books and specialty packaging, and develops and manufactures party goods.
In the early 1980s, the company licensed the ThunderCats toyline from LJN and distributed them in the various parts of Canada. The packaging of the Grand Toys ThunderCats featured all of the text that was printed on them written in English as well as French, the official languages of Canada.
Since Grand Toys did not manufacture the THunderCats toys but merely distributed them, there were no variations of differences between the Grand Toys packaged toys and those made by LJN.
Toy GalleryEdit
Grand Toys
Lion-O
Grand Toys
Cheetara
Grand Toys
Hachiman
Grand Toys
Capt. Shiner
Ad blocker interference detected!
Wikia is a free-to-use site that makes money from advertising. We have a modified experience for viewers using ad blockers

Wikia is not accessible if you've made further modifications. Remove the custom ad blocker rule(s) and the page will load as expected.