Héctor Elizondo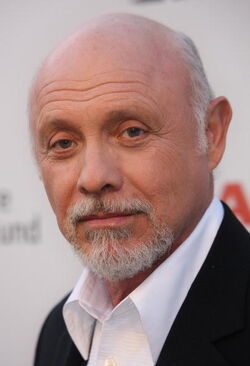 Héctor Elizondo is an American film and TV actor. He provided the voice of Viragor in the rebooted ThunderCats animated series.
Elizondo was born in New York after his parents emigrated there from Puerto Rico. Deeply interested in both sports and music, Elizondo sang in choirs, joined various performing art groups in school and even studied dance at the Ballet Arts Company.
He then turned his attention to acting and starting appearing in small roles in movies and TV series. He gained widespread attention and acclaim for his small role in the 1990 blockbuster "Pretty Woman". That led to him appearing in many Gary Marshall films including "Runaway Bride" (1999), "The Princess Diaries" (2001), "Valentine's Day" (2010), and "Mother's Day" (2016).
He also was one of the main cast members in the Tim Allen starring TV sitcom "Last Man Standing".
Ad blocker interference detected!
Wikia is a free-to-use site that makes money from advertising. We have a modified experience for viewers using ad blockers

Wikia is not accessible if you've made further modifications. Remove the custom ad blocker rule(s) and the page will load as expected.