Hard Hero Tygra Statue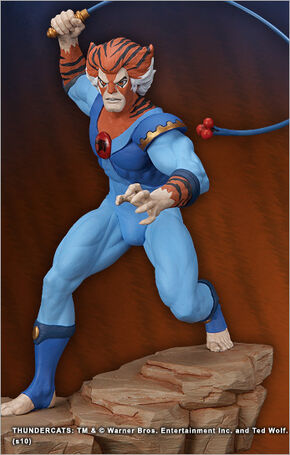 Official blurbEdit
"Thundercats, ho. The classic 80's animated series ThunderCats lives again in a series of high-quality statues from Hard Hero. Following the Lion-O, Cheetara, and Mumm-Ra statues, sculptor Paul Bennett turns his attentions to the Lion-O's second-in-command. Fifth in a classic series. 1:7 scale".
Product descriptionEdit
Revealed at the 2010 San Diego Comic Book Convention, Tygra is the fifth Hard Hero ThunderCats statue following Lion-O, Cheetara, Mumm-Ra and Bengali. Standing an impressive 10 inches tall, the statue is based on the 1980s ThunderCats cartoon series Tygra and even the pose is inspired from the show's opening sequence.
Standing on a rocky outcrop, Tygra is ready for action with his Bolo Whip in full motion. A bluish color scheme was chosen for Tygra instead of the traditional green color palette. With great attention to detail and delicate color work, Tygra fits in perfectly with the rest of the Hard Hero ThunderCats statues.
Ad blocker interference detected!
Wikia is a free-to-use site that makes money from advertising. We have a modified experience for viewers using ad blockers

Wikia is not accessible if you've made further modifications. Remove the custom ad blocker rule(s) and the page will load as expected.