Hardware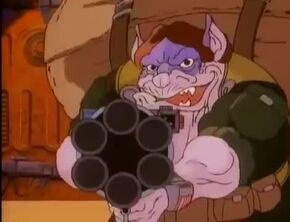 Hardware is one of the villains on SilverHawks and a member of the Mob led by Mon*Star. His robotic bird companion is Prowler.
This stocky, purple-skinned alien is the mechanical genius and weapons specialist for the Mob. He has a unique talent for creating dangerous and powerful weapons. He has an innate knowledge of mechanics and electronics. He is responsible for creating all of the Mob's technology.
Weapons and EquipmentEdit
Hardware always carries a rucksack with him. The bag that he carries on his back, is chock full of electronic and mechanical paraphernalia. He uses all this equipment to quickly and effortlessly fashion a variety of weapons.
Ad blocker interference detected!
Wikia is a free-to-use site that makes money from advertising. We have a modified experience for viewers using ad blockers

Wikia is not accessible if you've made further modifications. Remove the custom ad blocker rule(s) and the page will load as expected.