Icon Heroes Jackalman Staction Figure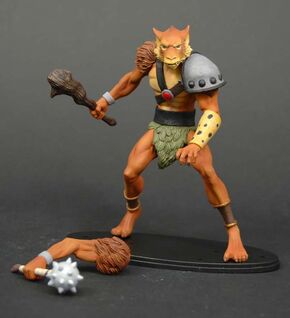 Official blurbEdit
"Amongst the mutants, Jackalman can be both loyal and traitorous at the same time if it is to his benefit. He is also one of the more humorous and cowardly of the bunch. With a cartoon accurate sculpt, Jackalman pops right out of the animation cell into your collection! Packaged on a retro style blister card, this ThunderCats staction figure is sure to be an instant classic!"
Product descriptionEdit
Part of the ThunderCats statue line made by Icon Heroes, Jackalman was first revealed to the public during the 2010 San Diego Comic Convention (SDCC). It was based on the 80's ThunderCats version of Jackalman. Initially announced as part of the resin mini-statue line similar to the Lion-O Mini Statue, he was reintroduced as one of the first figures to be released in the PVC Staction line. Each PVC staction figure included the ability to have removable features and/or parts. Jackalman came with two right arms — one arm holding a mace, the other holding a club. Each staction also came with a black display stand.
In a ready-to-do-battle pose, the Jackalman staction figure is carefully sculpted with special care given to every minute detail. From the fur on his shoulders to the wrinkles on his club, nothing has been overlooked. Holding his club in hands, Jackalman is ready to face the ThunderCats. The brown club that is included with the figure is identical in design to the club that was included with the 1980s LJN toy of Jackalman.
Ad blocker interference detected!
Wikia is a free-to-use site that makes money from advertising. We have a modified experience for viewers using ad blockers

Wikia is not accessible if you've made further modifications. Remove the custom ad blocker rule(s) and the page will load as expected.