Icon Heroes Ma-Mutt Staction Figure
Official blurbEdit
"Mumm-Ra's loyal dog Ma-Mutt is sculpted beautifully in scale with the Ma-Mutt Staction Figure!"
Product descriptionEdit
This is the sixth ThunderCats statue made by Icon Heroes, and the fourth PVC figure. It was based on the 80's ThunderCats version of Ma-Mutt .This figure was announced in June 2011 through Icon Heroes as the San Diego Comic Convention (SDCC) Exclusive. With every purchase of a Mumm-Ra staction figure, attendees received a free Ma-Mutt staction.
The figure captures the likeness of the horrid hound to the very smallest of detail including the color scheme of its cartoon incarnation. With a fierce look and attack-ready stance, Ma-Mutt is ready to defend his master, Mumm-Ra against any and all foes.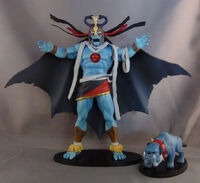 Ma-Mutt posed beside the Mumm-Ra Staction Figure
Ad blocker interference detected!
Wikia is a free-to-use site that makes money from advertising. We have a modified experience for viewers using ad blockers

Wikia is not accessible if you've made further modifications. Remove the custom ad blocker rule(s) and the page will load as expected.