Icon Heroes Thundertank Statue
Official blurb
Edit
"The THUNDERTANK is regarded as one of the THUNDERCATS' ultimate weapons, second only to the Sword of Omens. It is extremely versatile and maneuverable on a wide variety of terrains; and a continual work-in-progress with new weaponry and enhancements being added all the time. Cast in high quality polystone, this THUNDERTANK statue measures approximately 10.25" long x 7" wide x 2.5" tall, and features a removable cover to reveal its detailed cockpit underneath.".
Product description
Edit
Part of the ThunderCats statue line made by Icon Heroes, the Thundertank statue is based on the 80's cartoon version of the ThunderCats' vehicle. Revealed at the San Diego Comic Con (SDCC) as an exclusive, it was limited to only 600 pieces. The cockpit of the tank can be removed to reveal the detailed cockpit controls. Depicted in its non-battle made, the Thundertank statue is true in every way to its cartoon counterpart. Careful attention has been paid to the minor details both on the chassis of the tank as well as its interior.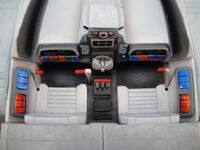 Details of the Thundertank's cockpit
Limited Edition of 600
Video Reeview
Edit
Ad blocker interference detected!
Wikia is a free-to-use site that makes money from advertising. We have a modified experience for viewers using ad blockers

Wikia is not accessible if you've made further modifications. Remove the custom ad blocker rule(s) and the page will load as expected.