Kano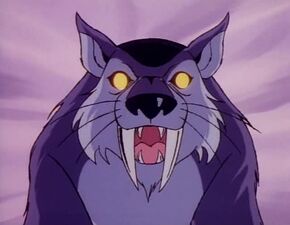 Profile
Origin
Thundera
Group
Thunderian Animal
Weapons & Accessories
Weapons
None
Accessories
None
Voice Actor
Voiced by
None
Character Guide
Page
List of all characters
Kano is the pet saber-tooth tiger belonging to Lion-O's family. About the size of a big Alsatian dog, Kano has purple fur and two prominent elongated upper canines, a characteristic of all saber-tooth tigers. Like any pet, Kano is extremely loving, affectionate and protective of his adoptive family. He can also turn fiercely vicious when they are under any kind of threat.
Lion-O encounters Kano when he is accidentally sent back in time and space to Thundera. The saber-tooth tiger recognizes his old master immediately even though Lion-O had grown to an adult. Kano then took Lion-O to meet his father Claudus.
Kano was never shown leaving Thundera along with the other ThunderCats so his fate is unknown. It is most likely that he perished with the planet.
ApperancesEdit
021. Return to Thundera
Ad blocker interference detected!
Wikia is a free-to-use site that makes money from advertising. We have a modified experience for viewers using ad blockers

Wikia is not accessible if you've made further modifications. Remove the custom ad blocker rule(s) and the page will load as expected.