Kevin Michael Richardson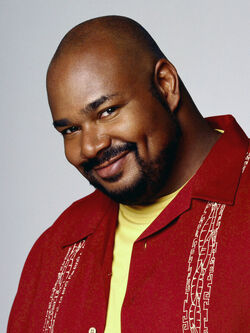 Details
Role
voice actor
Country
U.S.A., New York
Born
October 25, 1964
Spouse
Monica Richardson
Other Works
Lilo & Stitch, The Simpsons
Transformers : Prime
Green Lantern : The Animated Series
Page
List of all Cast & Crew
Kevin Michael Richardson is an American actor and voice actor. He provided the voice of Panthro in the rebooted ThunderCats animated series as well as a number of other secondary characters.
Born in the Bronx, New York, Richardson was one of only eight American high school students who were chosen to join the "Arts '82" program that was founded and run by of the National Foundation for the Arts. This helped him to get a scholarship to Syracuse University.
A classically trained actor, Richardson lent his deep baritone voice to characters in popular movies like "Mortal Kombat" and "Matrix Revolutions". He also had a small role as a police officer in the movie "Clerks 2".
However, Richardson found his true calling in voice acting. His thunderous voice made him the ideal choice to voice villainous characters in animated TV shows. Starting his voice dubbing career by providing the voice of Mayor Tilton in the animated TV show "The Mask", Richardson went on to work in numerous animated movies and shows.
Some of his well-known works include "The New Batman Adventures" (1997), "Pokemon" (1998), "Powerpuff Girls" (1998), "Voltron: The Third Dimension" (1998), "Family Guy", Lilo & Stitch (2002), as well as "Lilo & Stitch" TV series, "Codename Kids Next Door" (2002), Batman VS Dracula (2005) (V), where he voiced Joker, "Mummy The Animated Series" (2003), TMNT (2007) as General Aguila, "Transformers Animated" (2007) as Omega Supreme and Batman: Gotham Knight (2008), as Lucius Fox.
Characters VoicedEdit
He was nominated for two Daytime Emmy Awards for voicing The Joker in "The Batman" animated show (2004–2008).
He is also the first and so far only African American actor to voice the character of Batman's arch nemesis the Joker when he took the role on "The Batman" (2004-2008).
He is of Jamaican descent.
Ad blocker interference detected!
Wikia is a free-to-use site that makes money from advertising. We have a modified experience for viewers using ad blockers

Wikia is not accessible if you've made further modifications. Remove the custom ad blocker rule(s) and the page will load as expected.