Kidworks Lion-O
Lion-O Miniature Figure was produced by Kidworks Toys in the 1980s as part of its ThunderCats Mini-Figure line. The figure was based on the original cartoon series version of Lion-O. Unlike the action figures ThunderCats Toys produced by other toy companies, the miniature figures did not have any articulation or movable parts and hence were essentially mini statuettes.
AccessoriesEdit
Sword of Omens: The main and only weapon/accessory included with the Lion-O figure was the Sword of Omens. Made of brown plastic, only the blade and the Eye of Thundera on the sword were painted in silver color.
Unlike other Lion-O action figures which included a detachable Claw Shield, this particular figure had the accessory sculpted on it and was thus non-removable.
Foreign VariationsEdit
Figure Variation: The Miniature Lion-O figure that was made by some of the South American toy companies varied significantly than the one made by Kidworks. Their figure had a bigger mane of hair which ended in a point on one side, similarly to the character's appearance in the cartoo series.
This particular Lion-O figure also lacked the Claw Shield that was sculpted on the Kidworks figure.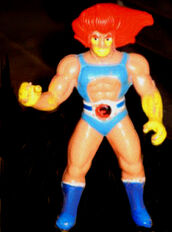 Mini Lion-O Variant
| | |
| --- | --- |
| | |
| U.S.A release | U.S.A card back |
Ad blocker interference detected!
Wikia is a free-to-use site that makes money from advertising. We have a modified experience for viewers using ad blockers

Wikia is not accessible if you've made further modifications. Remove the custom ad blocker rule(s) and the page will load as expected.