Koinelius Tunar's Ship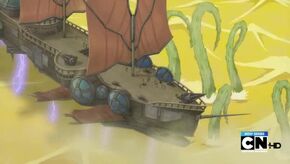 Koinelius Tunar's Ship is the sailing vessel the belongs to and is captained by Koinelius Tunar. The ship is modeled after old wooden pirate ships. Instead of oceans, the ship "sails" on the Sand Sea. It hovers over the sand via some form of electro-magnetic force field that it generates. The ship is fitted with a powerful laser cannon at the aft.
Koinleius and his Fishmen crew used to sail in the ship, searching fro the Ramlak, the beast that drank their home known as the Oasis. The ship was eventually destroyed in the battle against the Ramlak. While the beast devoured Koinelius, his crew managed to escape on the lifeboats with the help of the ThunderCats.
AppearancesEdit
03. Ramlak Rising

Ad blocker interference detected!
Wikia is a free-to-use site that makes money from advertising. We have a modified experience for viewers using ad blockers

Wikia is not accessible if you've made further modifications. Remove the custom ad blocker rule(s) and the page will load as expected.