LJN Bengali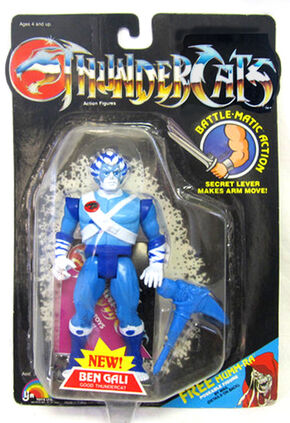 Bengali was one of the first ThunderCats action figures produced in the third series of ThunderCats toys by LJN Toys. The figure was based on the original 1980s cartoon version of Bengali. Standing a solid 6 inches tall, the Bengali figure had action features as well as poseable arms, legs and head, thanks to 5 points of articulation. The figure also came equipped with the Hammer of Thundera
1. Battle-Matic Action: Like many of the LJN ThunderCats toys, the Bengali figure featured a lever on its back and pushing down this lever with the forefinger would make the figure's right arm move up and down.
2. Poseable limbs and head: The Bengali figure had 5 points of articulation, 2 at the shoulders, 2 at the hips and 1 at the neck. These points allowed the figure to be posed in a variety of action poses. The figure also had a poseable tail.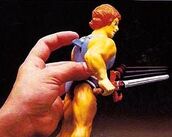 Battle-Matic Action
Accessories
Edit
Hammer of Thundera: Made of blue plastic, the hammer was designed to fit into the figure's hand. The design of the hammer was similar to its appearance in the original ThunderCats cartoon series albeit it was much bigger in proportion to the figure.
In one of the LJN Dealers' Catalogs, the hammer that was held by the Bengali figure was significantly different than the one that was eventually produced. This particular hammer, despite being made of blue plastic as well, resembled an axe.

Hammer
3. Series 3: The third series Bengali was released in 1987. The area on the backing card behind the figure had a white splash. It came with the orange and yellow front LJN Mini Catalog.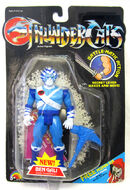 Series 3 Bengali
Variations
Edit
1. Color Variation: There are two most common variants of this figure. One variant, which was produced in the U.S.A., had a head that was made of white plastic and details painted on it using a cyan-blue color. The blue found on the body of the figure was also more cyan in tone. The second variant, released mostly in Europe, had a head made of blue plastic with details painted on it in white. The color of the body was also more blue than cyan.
The Hammer of Thundera that came with the Bengali figure also varied slightly in color. It was a darker shade of blue in some packages and lighter shade of blue in others.
2. Packaging Variation: Interestingly, while most Bengali figures had a "Name Sticker" on the packaging bubble, some did not have this.
Bengali Variants
Bengali MOC
with Sticker
Bengali MOC
without Sticker
Foreign Variations and Releases
Edit