LJN Black Laser Saber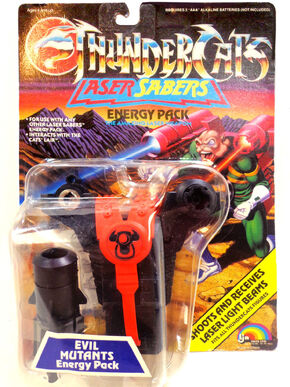 Black Laser Saber was one of the first ThunderCats vehicles produced in the third series of ThunderCats toyline by LJN Toys. This particular vehicle/weapon never made an appearance in any episode of the original 1980s ThunderCats cartoon. The Laser Saber had action features and could hold one ThunderCats figure (not included).
A total of 4 different Laser Sabers were made by LJN:
Blue - (Good ThunderCats)
Orange - (Good ThunderCats)
Black - (Evil Mutants)
Red - (Evil Mutants)
Rather curiously, the ThunderCats logo that is printed in white on the Good ThunderCats' Laser Sabers (Blue and Orange) rubber straps is inverted.
Battle-Matic Action: The Laser Saber was to be placed onto one of the ThunderCats Action figures, using the straps to hold it in place. The toy's main action feature involved shooting invisible laser light which was made possible by the use of 3 "AAA" Alkaline Batteries (not included) that were inserted into the back of the Laser Saber. When a Laser Saber's shot registered a direct hit in the target spot of another Laser Saber, it would result in the latter producing a loud exploding noise.
All of the Laser Sabers could also interact with the laser system of the LJN Cats Lair just like the Mutant Attack Sled that is included with the Cats Lair playset.
Series 3: The third series Black Laser Saber was released in 1987. The vehicle was packaged on its own custom backing card that featured an illustration of Captain Shiner wearing a Red Laser Saber and firing it.
| | |
| --- | --- |
| | |
| Box Front | Box Back |
Foreign Variations and Releases
Edit