LJN Cannon Blaster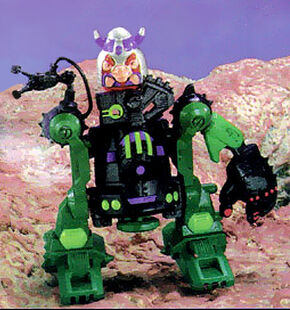 Details
Company
LJN Toys
Year
Unreleased
Features
Cannon Shooting Action, 5 points of articulation
Accessories
Dwarf Cannon Figure
Size
4"
Toy Guide
Previous
LJN Red Eye
Next
LJN Quickjaws
Cannon Blaster is one of the unproduced ThunderCats toys that were made by LJN Toys. Even though the figure appeared in catalogs as part of the "Berserkers" sub-line, the character never actually appeared in any of the original 1980s cartoon series.
1. Cannon Shooting Action: Like many of the LJN ThunderCats figures, the Cannon Blaster figure was also going to possess a unique "Battle-Matic Action". In this case, the toy consisted of two separate figures, a robotic body and a dwarf-like Berserker wearing a helmet. The figure was designed to shoot the tiny Berserker when a button on the robot's body was pressed.
2. Poseable limbs and head: The figure had 5 points of articulation, 2 at the shoulders and 2 at the hips and 1 at the neck. These points allowed the figure to be posed in a variety of action poses.
The Cannon Blaster figure was featured prominently in the LJN "Mini Catalogs" alongside the other Berserkers, LJN Hammerhand, LJN Top Spinner, LJN Ram Bam, LJN Cruncher, and another unproduced Berserker, Quickjaws.
LJN Catalogue showing
unproduced figures
Unreleased: Despite being advertised on some catalogs, the Cannon Blaster figure never went into production.
Ad blocker interference detected!
Wikia is a free-to-use site that makes money from advertising. We have a modified experience for viewers using ad blockers

Wikia is not accessible if you've made further modifications. Remove the custom ad blocker rule(s) and the page will load as expected.