LJN Driller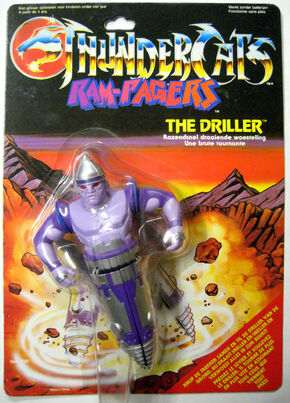 Details
Company
LJN Toys
Year
1987 (Series 3)
Features
Battle-Matic Action, 3 points of articulation
Accessories
3 Drill Bits
Size
6"
Asst. #
3580 (Series 3)
Toy Guide
Previous
LJN Tongue-a-Saurus
Next
LJN Stinger

Driller was one of the first ThunderCats action figures produced in the third series of ThunderCats toys by LJN Toys. The figure was part of the "Rampagers" sub-line and was based on the original 1980s cartoon version of Driller.
Standing a solid 6 inches tall, the Driller figure had action features as well as poseable arms and head, thanks to 3 points of articulation.
1. Battle-Matic Action: Similar to his cartoon counterpart, the Driller's action feature consisted of a drilling action. Squeezing a button on the back of the figure would cause the bottom half of the Driller to rotate quickly.
On many of the catalogs, boxes and figure backing cards, the Driller was advertised together with the LJN Stinger and the unproduced LJN Mad Bubbler. The three were part of the sub-line known as "The Ram-Pagers".
2. Poseable limbs and head: The Driller figure had 3 points of articulation, 2 at the shoulders and 1 at the neck. These points allowed the figure to be posed in a variety of action poses.
The bottom drill of the figure was actually made up of three separate segments which could open up and act as temporary "legs" on which the Driller could stand.

Battle-Matic Action
Accessories
Edit
3 Drill Bits: The figure came with 3 Drill Bits which would be attached to the bottom of the figure.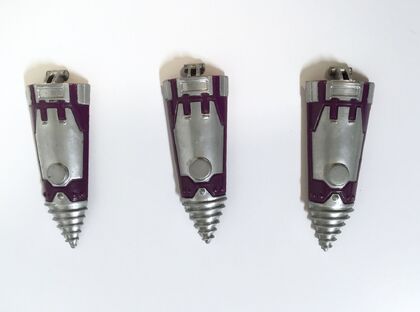 Drill Bits
3. Series 3: The third series Driller was released in 1987. The figure was packaged on its own custom backing card.
Series 3 Driller
(front)
Series 3 Driller
(back)
Rampagers
Foreign Variations and Releases
Edit
Driller Loose
(front)
Driller Loose
(side)
Driller Loose
(back)