LJN Feliner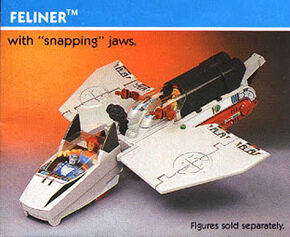 Feliner is one of the unproduced ThunderCats toys that were made by LJN Toys. The figure is based on the original 1980's cartoon version of the ThunderCats' spacecraft, the Feliner.
Featured prominently in many of the later LJN Mini Catalogs, the Feliner would have been the largest toy in the ThunderCats line. Measuring an impressive 20 inches from nose to tail, the Feliner had enough space to seat as many as four ThunderCats LJN action figures, two in the front and two in the back. The vehicle was also packed full of various action features.
1. Air and Ground Mode: Like many of the LJN ThunderCats toys, the Feliner was also going to possess a unique "Battle-Matic Action". The ship would have been capable of converting between air and ground mode thanks to retractable landing gear and extending wings.
2. Mobile Head: The mechanized head of the Feliner would have been able to move independently of its body. Apart from being able to move freely in the vertical and horizontal plane, the head also had powerful snapping jaws that could be opened and closed to grab objects.
3. Sound Effects: Movements of the Feliner's head would have also resulted in the vehicle producing thunderous roaring sounds.
Due to never reaching production stage, very little is known about the Feliner. But based on its advertised features, it is very likely that the vehicle would have required batteries to operate some of its features.
A few working prototypes of the Feliner have been known to exist in the collection of avid collectors.
Unreleased: Despite being advertised in some catalogues, the Feliner never went into production.
Ad blocker interference detected!
Wikia is a free-to-use site that makes money from advertising. We have a modified experience for viewers using ad blockers

Wikia is not accessible if you've made further modifications. Remove the custom ad blocker rule(s) and the page will load as expected.