LJN Lizzor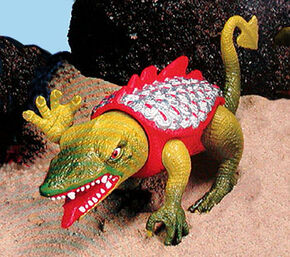 Lizzor is one of the unproduced ThunderCats toys that were made by LJN Toys. The character never actually appeared in any episode of the original 1980's cartoon. Lizzor was never featured in any catalogs except the 1986 LJN Dealers Catalogue.
Lizzor, a giant lizard-like monster, was actually the result of modifying another toy called "Bullete"'. Bullete was originally planned to be included in LJN's previous toyline, "Advanced Dungeons and Dragons". Due to unknown reasons, the toy was scrapped from that line and instead an altered version of it was planned to be included in the ThunderCats toyline. Unfortunately, the toy suffered same fate in this second toyline as well and never went into production.
Lizzor utilized the head and body of Bullete, and only a few changes were made to turn it into Lizzor, including changing the color scheme.The toy seems to be a cross between a lizard and an armadillo, with the head and limbs of the former and the armor plated body of the latter.
In its only appearance in the LJN Dealers Catalog, Lizzor is placed next to the Astral Moat Monster figure. Based on this, the toy's size can be estimated to be about the same as that of the LJN Nosediver.
Due to the figure never reaching production stage, very little is known about it. It still remains unknown if Lizzor would have featured any "Battle-Matic Action" like the other LJN ThunderCats Toys. However, it seems that the figure was probably more like the LJN Astral Moat Monster, featuring only poseable appendages.
The fact that Lizzor never appeared in any of the LJN Mini Catalogs or the packaging of any of the toys, it strongly suggests that plans for the production of the toy were scrapped very early on.
Poseable limbs and head: The figure had 6 points of articulation, 2 at the shoulders and 2 at the hips, 1 at the tail, and 1 at the neck. These points allowed the figure to be posed in a variety of action poses.
Unreleased: Despite being advertised in the 1986 LJN Dealers Catalogue., the Lizzor figure never went into production.
Ad blocker interference detected!
Wikia is a free-to-use site that makes money from advertising. We have a modified experience for viewers using ad blockers

Wikia is not accessible if you've made further modifications. Remove the custom ad blocker rule(s) and the page will load as expected.