LJN Luna Lasher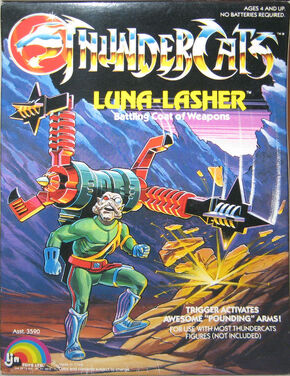 Details
Company
LJN Toys
Year
1987 (Series 3)
Features
Pounding action, Holds One Figure
Accessories
Instruction Sheet
Asst. #
3590 (Series 3)
Toy Guide
Previous
LJN Safari Joe
Next
LJN Thunderwings

Luna Lasher was one of the first ThunderCats vehicles produced in the third series of ThunderCats toyline by LJN Toys. This particular vehicle/weapon never made an appearance in any episode of the original 1980s ThunderCats cartoon. The Luna Lasher had action features and could hold one ThunderCats figure (not included).
Battle-Matic Action: The Luna Lasher's action feature involved the rotational swinging and pounding of its two giant mechanical arms which was controlled by a small button located on the back of the toy. The Luna Lasher could fit onto one action figure (not included) and its action feature did not require the use of any batteries.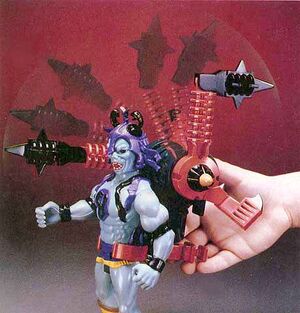 Battle-Matic Action
Accessories
Edit
1.Instruction Sheet: The Luna Lasher also came with an Instruction Sheet which had all the necessary assembly directions along with illustrations.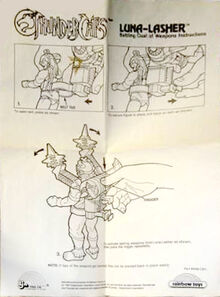 Instruction Sheet
Series 3: The third series Luna Lasher was released in 1987. The vehicle came packaged in a box. The Luna Lasher was also released in a deluxe package with its own Mumm-Ra figure as the Luna Lasher Mumm-Ra
The Luna Lasher along with the Thunderwings and Stilt Runner were released together as a sub-group known as "Transporters".
| | | |
| --- | --- | --- |
| | | |
| Box Front | Box Back | Transporters |
Foreign Variations and Releases
Edit