LJN Luna Lasher Mumm-Ra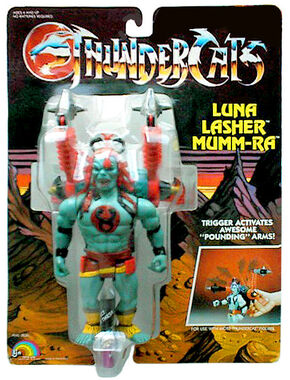 Luna Lasher Mumm-Ra was one of the first ThunderCats action figures produced in the third series of ThunderCats toys by LJN Toys. The figure was based on the original 1980s cartoon version of Mumm-Ra. Standing a solid 7 inches tall, the Luna Lasher Mumm-Ra figure had poseable arms, legs and head, thanks to 5 points of articulation.
Poseable limbs and head: The Luna Lasher Mumm-Ra figure had 5 points of articulation, 2 at the shoulders, 2 at the hips and 1 at the neck. These points allowed the figure to be posed in a variety of action poses.
The Luna Lasher Mumm-Ra was a completely separate figure and not a variant of the LJN Mumm-Ra from which it differed significantly. Unlike the normal Mumm-Ra figure, this figure lacked both the "Light-Up Eyes" and "Battle-Matic Action" features. As a result, its eyes were solid as was its back, not having the Battle-Matic button or the Power Ring contact point. For this reason, the figure has been dubbed by many fans as the "Solid Back Mumm-Ra".
This particular Mumm-Ra figure was made by LJN after they realized that the Battle-Matic Action button on the back of the regular Mumm-Ra made it difficult to fit the LJN Luna Lasher onto it.
As it was produced much later in the toyline, the Luna Lasher Mumm-Ra was never advertised in any of the LJN Mini Catalogs, toy boxes, or figure backing cards. Instead, the figure that appeared on the LJN Luna Lasher box was that of the LJN Purple Mumm-Ra.
Normal and Luna Lasher Mumm-Ra.jpg
Series 3: The third series Luna Lasher Mumm-Ra was released in 1987. This was one of only two figures to be released as a "Deluxe Pack", the other being the LJN Thunderwings Lion-O. The packaging of the Luna Lasher Mumm-Ra consisted of the Mumm-Ra figure and the LJN Luna Lasher both encased in a clear plastic bubble that was surrounded by the LJN backing card. The combined size of the figure and the vehicle necessitated this type of packaging.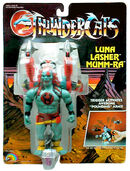 Series 3 Luna Lasher Mumm-Ra
Foreign Variations and Releases
Edit