LJN Mad Bubbler
Mad Bubbler is one of the unproduced ThunderCats toys that were made by LJN Toys. The figure is based on the original 1980's cartoon version of the villainous Mad Bubbler, who appeared in only one episode of the same name. Surprisingly, the toys' colors and design differ considerably from its cartoon counterpart.
1. Bubble Blowing Action: Like many of the LJN ThunderCats figures, the Mad Bubbler figure was also going to possess a unique "Battle-Matic Action". In this case, the figure was designed to blow soap bubbles, similar to bubble guns that were popular in the 1980s. The front of the figure had a compartment to fill with soapy water. Then, whenever the head of the figure was depressed it would "blow" out many soap bubbles.
2. Poseable limbs and head: The Red Eye figure had 4 points of articulation, 2 at the shoulders and 2 at the hips. These points allowed the figure to be posed in a variety of action poses.
The Mad Bubbler figure was featured prominently in the LJN "Mini Catalogs" as part of the "Ram-Pagers" sub-line. The other two figures that formed part of this sub-line included the Driller and the Stinger. Strangely, in the cartoons, neither the Mad Bubbler nor the Driller were ever referred to as "Ram-Pagers".
While still being developed, the figure went through a number of different concept designs before being finalized as the design that appeared in the LJN "Mini Catalogs". In one of these concept designs, the figure was much smaller in size. It consisted of a spherical squeezable plastic ball on its back that acted as the reservoir for the soap solution as well as bellows. When it was squeezed, the hands covering the mouth of the figure would spread out, allowing it to "blow" soap bubbles.
The Mad Bubbler figure did not appear in the final LJN "Mini Catalog" that was included with the Series 3 Rainbow Toys, indicating that by that point in time plans to produce the figure had been scrapped.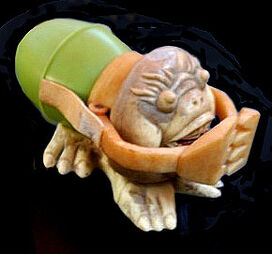 Unused Mad Bubbler Concept Prototype
Unreleased: Despite being advertised on some catalogues, the Mad Bubbler figure never went into production.
Ad blocker interference detected!
Wikia is a free-to-use site that makes money from advertising. We have a modified experience for viewers using ad blockers

Wikia is not accessible if you've made further modifications. Remove the custom ad blocker rule(s) and the page will load as expected.