LJN Plush Snarf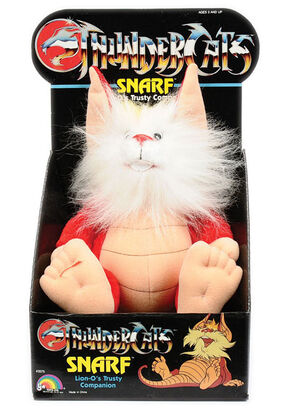 Plush Snarf was a soft toy that was released as part of the LJN ThunderCats toyline. The figure was based the original 1980s cartoon version of Snarf.
This was the only plush toy to be produced by LJN for its ThunderCats line. Interestingly, the Plush Snarf never appeared in any of the LJN Catalogs, nor was it advertised on any of the card-backs or toy boxes.
1. Series 2: The second series Plush Snarf was released in 1986. The soft toy was packaged in an open sided box due to its size.
2. Series 3: The third series Plush Snarf was released in 1987. The toy came packaged in the same box as the Series 2 Plush Snarf and was merely a re-release.
| | |
| --- | --- |
| | |
| Box Front | Box Back |
Foreign Variations and Releases
Edit