LJN Purple Mumm-Ra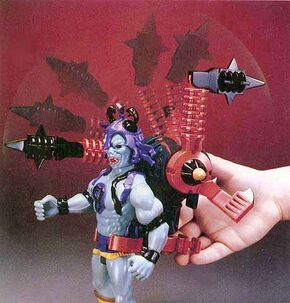 Details
Company
LJN Toys
Year
Unreleased
Features
5 points of articulation
Accessories
Purple Headdress
Size
7"
Toy Guide
Previous
LJN Red Lion-O
Next
LJN Lizzor
Purple Mumm-Ra is one of the unproduced ThunderCats toys that were made by LJN Toys. Despite being based on the original 1980's cartoon character Mumm-Ra, the figure's color scheme is quite different from that of the cartoon character.
1. Poseable limbs and head: The Purple Mumm-Ra figure would have had 5 points of articulation, 2 at the shoulders, one at the neck, and 2 at the hips. These points allowed the figure to be posed in a variety of action poses.
The Purple Mumm-Ra was featured prominently on the backing card of the LJN Luna Lasher Mumm-Ra as well as the box of the LJN Luna Lasher. In both these appearances the figure is depicted with the Luna Lasher Transporter on its shoulders.
The toy came with a purple headdress and its skirt, some of the bandages and chest insignia were also all colored purple. In comparison, in the normal LJN Mumm-Ra, all these parts were red colored.
Due to the figure never reaching production stage nor its appearance in any LJN catalogs as a separate figure, very little is known about it. It still remains unknown if the Purple Mumm-Ra would have featured the "Battle-Matic Action" and/or the "Light-Up Eyes" like the normal LJN MUmm-Ra. Whether any accessories were planned to be included with the figure apart from the purple headdress also remains unknown.
Unreleased: Despite being advertised on some catalogues, the Purple Mumm-Ra figure never went into production.
Ad blocker interference detected!
Wikia is a free-to-use site that makes money from advertising. We have a modified experience for viewers using ad blockers

Wikia is not accessible if you've made further modifications. Remove the custom ad blocker rule(s) and the page will load as expected.