LJN Stinger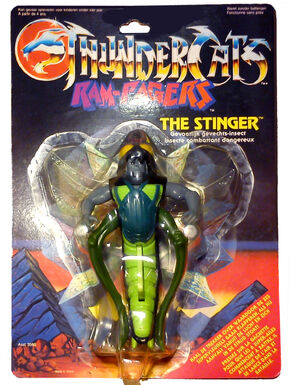 Stinger was one of the first ThunderCats action figures produced in the third series of ThunderCats toys by LJN Toys. The figure was part of the "Rampagers" sub-line which included The Driller and the unproduced Mad Bubbler. Standing a solid 6 inches tall, the Stinger figure had action features as well as poseable arms and legs, thanks to 4 points of articulation.
The Stinger actually never featured in any episode of the ThunderCats cartoon series. He only made an appearance in one story in the "ThunderCats 1989 Annual" published by Marvel Comics UK.
1. Battle-Matic Action: Stinger's main action feature involved the rotational flapping of its six wings which was controlled by the button located on the front of its abdomen.
On many of the catalogs, boxes and figure backing cards, the Stinger was advertised together with the LJN Driller and the unproduced LJN Mad Bubbler. The three were part of the sub-line known as "The Ram-Pagers".
2. Poseable limbs and head: The Stinger figure had 3 points of articulation, 2 at the shoulders and 1 at the neck. These points allowed the figure to be posed in a variety of action poses.
Series 3: The third series Stinger was released in 1987. The figure was packaged on its own custom backing card.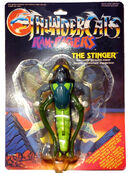 Variations
Edit
Wing Variation: There are two variants of the Stinger figure. On the first variant the wings were made of clear, transparent plastic while the second variant had wings which, while still made of clear, transparent plastic, had a transparent, greenish pink glitter on them.
Foreign Variations and Releases
Edit
Stinger Loose
(front)
Stinger Loose
(back)