LJN Thunderclaw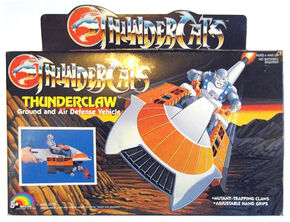 Details
Company
LJN Toys
Year
1986 (Series 2)
Features
Mutant Trapping Claws, Adjustable Hand Grips, Holds One Figure
Accessories
Two handlebars, Sticker Sheet, Instruction Sheet
Asst. #
3534 (Series 2)
Toy Guide
Previous
LJN Ram Bam
Next
LJN Hovercat

Thunderclaw was one of the first ThunderCats vehicles produced in the second series of ThunderCats toys by LJN Toys. The vehicle was based on the original 1980s cartoon version of Thunderclaw. The Thunderclaw had action features and could seat one ThunderCats figure.
Battle-Matic Action: The vehicle's action feature involved its wings turning into giant grabbing claws. When a button at the back of the Thunderclaw was pressed, the wings would snap downwards, closing in and grabbing any figure within their reach.
The Thunderclaw had the capacity to seat only one figure (not included with the vehicle). The Battle-Matic action of this vehicle did not require any batteries to function.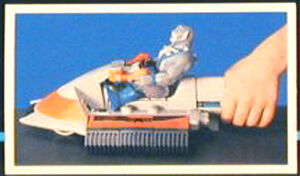 Battle-Matic Action
Accessories
Edit
1.Two Handlebars: The Thunderclaw came with two plastic orange handlebars which would be fitted onto the left and right side of the vehicle.
2.Instruction Sheet: The Thunderclaw also came with an Instruction Sheet which had all the necessary assembly directions along with illustrations.
3.Sticker Sheet: Included with the vehicle was a small sticker sheet with two "Thundercats Insignia" stickers which were to be applied to each of the wings.
| | | |
| --- | --- | --- |
| | | |
| Two Handlebars | Instruction Sheet | Sticker Sheet |
1. Series 2: The second series Thunderclaw was released in 1986. The vehicle came packaged in a box due to its size.
2. Series 3: The third series Thunderclaw was released in 1987. The vehicle came packaged in the same box as the Series 2 Thunderclaw and was merely a re-release.
| | |
| --- | --- |
| | |
| Box Front | Box Back |
Variations
Edit
Accessory Variations: There are two known variants of the Thunderclaw. The first variant (released in the U.S.A.), had one central wheel under its front part. It also came with two strips of black rubber that were supposed to attach to the ends of its wings, even though they did not fit on them at all. The other variant (released in Europe) did not have either of these.
Thunderclaw Variations
Foreign Variations and Releases
Edit