LJN Tongue-a-Saurus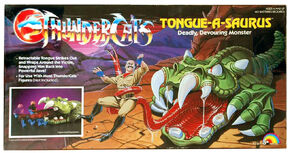 Tongue-a-Saurus The Tongue-a-saurus was the largest figure produced by LJN Toys for their ThunderCats toyline, being almost the same size as the ThunderTank. It was based on the original ThunderCats cartoon series' creature Tongue-a-Saurus. The figure did not require any batteries to operate.
Excluding the playsets and the vehicles, the Tongue-A-Saurus was the biggest figure produced by LJN for the ThunderCats toyline. It was almost as long and wide as the LJN Thundertank.
The LJN Dealers' Catalog showed pictures of the Tongue-A-Saurus with two claw-like arms at its side. The color of the toy was also considerably darker. The figure that was eventually produced did not have the arms and was a lighter shade of green.
While most of the toys that were produced by LJN were based on their counterparts appearing in the ThunderCats cartoon series, for the Tongue-A-Saurus it was the opposite. The idea for the toy was conceived by the designers at LJN and was submitted to Rankin/Bass who approved the design and it went into production. The character was then featured in the episode Time Switch in a small cameo role in order to familiarize children with it.
Battle-Matic Action: Like many of the LJN ThunderCats toys, the Tongue-a-Saurus figure had its own unique Battle-Matic feature which was its long retractable tongue. The tongue was controlled by a handle which was located at the back of the figure and shaped to look like its tail. Pushing it would cause the tongue to extend. The tongue could then be positioned close to a figure by rotating the handle. Finally pulling the handle would cause the tongue to grab the figure by wrapping around it and pulling it back into the Tongue-A-Saurus's mouth

Battle-Matic Action
Accessories
Edit
Instruction Sheet: The figure came with an Instruction Sheet which had all the necessary assembly directions along with illustrations.
3. Series 3: The third series Tongue-a-Saurus was released in 1987. The figure came packaged in a box and did not include any ThunderCats figures. However, some later releases of the figure came with the bonus offer known as the "Extra Value Offer". These offers included a free LJN Safari Joe action figure with the Tongue-A-Saurus.
Series 3 Tongue-a-Saurus
Series 3 Tongue-a-Saurus
Extra Value box
Foreign Variations and Releases
Edit
Tongue-a-Saurus Loose
(front)
Tongue-a-Saurus Loose
(back)