LJN Top Spinner
Details
Company
LJN Toys
Year
1986 (Series 2)
1987 (Series 3)
Features
Battle-Matic Action, 5 points of articulation
Accessories
Attached Mace and Shield
Size
5"
Asst. #
3526 (Series 2)
Toy Guide
Previous
LJN Cruncher
Next
LJN Ram Bam

Top Spinner was one of the first ThunderCats action figures produced in the second series of ThunderCats toys by LJN Toys. The figure was based on the original 1980s cartoon version of Top Spinner.
Standing a solid 5 inches tall, the Top Spinner figure had action features as well as poseable arms and head, thanks to 5 points of articulation.
Top Spinner was released as a member of the ThunderCats "Berserkers" sub-line which included Hammerhand, Cruncher, Top-Spinner, and Ram-Bam. All the Berserkers had a unique packaging which consisted of a backing card which was hollow in the center. The figure was placed in this cut-out section and enclosed in a clear plastic bubble from both ends. The bulky size of the Berserker figures necessitated this type of packaging.
The backing card of each Berserker featured an illustration showing the figure in action. Top Spinner's backing card featured an illustration of him spinning wildly.
Interestingly, in some of the very early LJN ThunderCats toy catalogues, Top Spinner was known as "Tornado". Later on the name was changed to Top Spinner.
1. Battle-Matic Action: Top Spinner's action feature was controlled by a lever located on the figure's back. Pressing this lever would make the figure spin rapidly, knocking down any figures nearby with his spiked mace.
2. Poseable limbs and head: The Top Spinner figure had 3 points of articulation, 2 at the shoulders, and 1 at the neck. These points allowed the figure to be posed in a variety of action poses.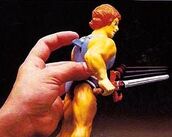 Battle-Matic Action
1. Series 2: The second series Top Spinner was released in 1986.
2. Series 3: The third series Top Spinner was released in 1987. The figure came packaged on the same card as the Series 2 figure and was merely a re-release.
Top Spinner MOC
Front
Top Spinner MOC
Back
Foreign Variations and Releases
Edit
Top Spinner
Loose
(front)
Top Spinner
Loose
(back)
Berserkers