Laser Saber Mumm-Ra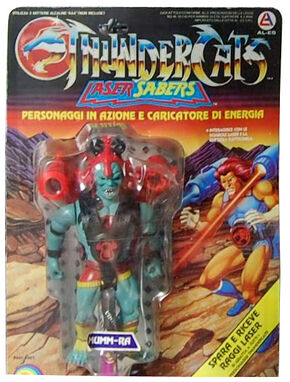 Laser Saber Mumm-Ra was a special deluxe repackaged ThunderCats action figure that was released by the Italian toy company Al-Es. The pack consisted of the LJN Mumm-Ra wearing the LJN Red Laser Saber, both of which were released by LJN Toys separately.
Al-Es produced four such deluxe figures based on their appearance in one of the LJN Mini Catalogs in which the Laser Sabers were advertised with the ThunderCats figures wearing them as follows:
The Mumm-Ra figure came with only its Headdress. Made of red plastic, the headdress included flowing bandages near the bottom and two black snake heads at the top. It was designed to fit onto Mumm-Ra's head.
The Mumm-Ra figure did not come with any other accessories that the LJN Mumm-Ra had. Even though it was the LJN regular Mumm-Ra with the "Light-Up Eyes" feature, it did not come with the Power Ring.
The Red Laser Saber also came fully assembled, unlike the vehicle's LJN release in which the pack's cannon was packaged unattached and had to be assembled after opening.
Ad blocker interference detected!
Wikia is a free-to-use site that makes money from advertising. We have a modified experience for viewers using ad blockers

Wikia is not accessible if you've made further modifications. Remove the custom ad blocker rule(s) and the page will load as expected.