Lizard Cruiser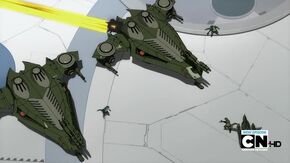 Lizard Cruisers are the main mode of transportation used by the Lizard Army under Mumm-Ra's command. Slithe also rides it most of the time and when the two new generals Addicus and Kaynar join the army, they too use the cruisers to get around.
These green colored vehicles can travel equally well on both land and in the air. On land, they travel like a hovercraft, floating a few inches off the ground. In the air, they behave like jet planes with great maneuverability. When on land, the Lizards often stand on top of the cruiser while one sits inside and pilots it.
The Lizard army use the cruisers to patrol areas as well as transport captives and in warfare as well. They are equipped with an array of guns and cannons.
AppearancesEdit
14. New Alliances
15. Trials of Lion-O, Part 1
26. What Lies Above, Part 2
Ad blocker interference detected!
Wikia is a free-to-use site that makes money from advertising. We have a modified experience for viewers using ad blockers

Wikia is not accessible if you've made further modifications. Remove the custom ad blocker rule(s) and the page will load as expected.