Mattel Lion-O
Lion-O was the second ThunderCats action figure produced by Mattel Toys as part of their "Classics" line. The figure was based on the original 1980s cartoon version of the Lion-O. The figures stood 6 inches tall and had multiple points of articulation as well as having a number of accessories.
The Lion-O figures went on sale in September of 2016 on the "Mattycollector" website.
1. Poseable limbs, head and torso: The figure has 13 points of articulation (neck, shoulders, elbows, wrists, waist, hip, knees, ankles). The articulation allows the figure to be posed in a number of action stances.
AccessoriesEdit
1. Interchangeable hands: The figure came with a pair of extra hands that could be swapped. Some of the hands had closed grips to allow the included weapons and accessories to fit into them.
2. Sword of Omens: The figure came with two Sword of Omens. The short version which has the Eye of Thundera painted on its hilt and the long version which had the ThunderCats symbol painted on the hilt.
3. Claw Shield: The figure came with two Claw Shields. One Claw Shield could be attached to a peg on the figure's waist. This version had the handle of the short version of the Sword of Omens sculpted into it. The second Claw Shield could be fitted onto the figure's left forearm by swapping it with the left hand.
PackagingEdit
Lion-O came packaged in a window box with a clear plastic front. The window box itself comes packaged inside an black shipper box with the Eye of Thundera logo printed on it in grey.
Shipping Box
Box Back
illustration
Notes of InterestEdit
When Mattel unveiled the Lion-O prototype at the 2015 San Diego Comic Convention (SDCC), fans were not happy with the face and hair of the figure. Mattel then corrected this and revealed a modified Lion-O prototype a month later.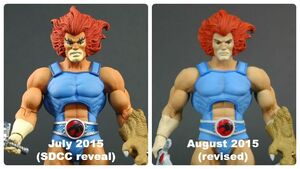 Lion-O Prototypes
The description/official blurb at the back of the box has a number of grammatical errors.
Both the Claw Shields included with this figure have a furry texture sculpted on them, probably as a nod to the LJN Lion-O's Claw Shield. However, in the cartoon, the Claw Shield has a shiny metallic surface.
Lion-O
Loose
Lion-O
Loose
Ad blocker interference detected!
Wikia is a free-to-use site that makes money from advertising. We have a modified experience for viewers using ad blockers

Wikia is not accessible if you've made further modifications. Remove the custom ad blocker rule(s) and the page will load as expected.