Mattel WilyKit and WilyKat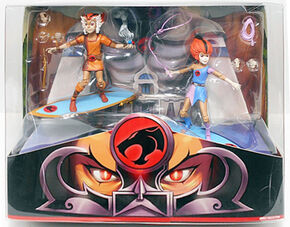 Details
Company
Mattel Toys
Year
2016
Features
Multiple points of articulation and interchangeable hands
Accessories
Hands, Lasso, Smoke Pellet, Spaceboard, Stands
Size
4"
Toy Guide
Next
Mattel Lion-O
WilyKit and WilyKat are the first ThunderCats action figures produced by Mattel Toys as part of their "Classics" line. The figures were based on the original 1980s cartoon version of the ThunderKittens. The figures stood 4 inches tall and had multiple points of articulation as well as having a number of accessories.
The ThunderKittens were sold as a two pack at the 2016 San Diego Comic Convention (SDCC). They were sold for $60 at the Super7 booth as a convention exclusive. Then on June 17 they went on on pre-sale at the "Mattycollector" website.
1. Poseable limbs, head and torso: Each of the figures had 13 points of articulation (neck, shoulders, elbows, wrists, waist, hip, knees, ankles). The articulation allowed the figures to be posed in a number of action stances.
AccessoriesEdit
1. Interchangeable hands: Each figure came with a number of extra hands that could be swapped. WilyKit has two extra hands (four in total) while Wilykat has three extra hands (five in total). One of WilyKat's hands has an exploding smoke pellet sculpted onto it.
2. Lasso: WilyKit comes with two pink lassos. One is extended to be placed in her hand while the other is coiled to be attached to her hip.
3. Whip: WilyKat comes with two brown whips, similar in appearance to Tygra's Bolo Whip. One is extended to be placed in his hand while the other is coiled to be attached to his hip.
4. Spaceboard: Each figure comes with its own Spaceboard, yellow lined board with WilyKat and blue lined board with WilyKit.The boards also have a peg in the center which allows the figures to be fitted onto it.
5. Stands: The pack also includes two clear plastic stands. These allow the Spaceboards to be attached onto them, enabling the figures to be displayed in a flying pose.
PackagingEdit
The twins came packaged in a window box with a clear plastic front. The box also unfolds into a display stage with an illustration of Cats Lair. The window box itself comes packaged inside an black shipper box with the Eye of Thundera logo printed on it in grey.
Shipping Box
Unfolded box display
Box Back
illustration
Notes of InterestEdit
WilyKat's right sleeve is wrongly painted orange instead of brown.
The description/official blurb at the back of the box incorrectly allots the ThunderCats (2011) series' ThunderKittens weapons to these figures:"WILYKAT subdues with his Flick, a grappling hook, to overcome enemies and WILYKIT enchants with her hypnotic flute".
ThunderKittens
Loose
ThunderKittens
Loose
Concept Art
Ad blocker interference detected!
Wikia is a free-to-use site that makes money from advertising. We have a modified experience for viewers using ad blockers

Wikia is not accessible if you've made further modifications. Remove the custom ad blocker rule(s) and the page will load as expected.