Matthew Mercer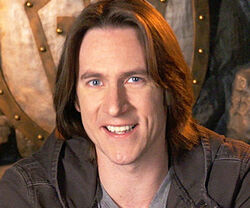 Details
Role
voice actor
Country
U.S.A., Los Angeles
Born
June 29, 1982
Other Works
Attack on Titan
Beware the Batman
DC Super Friends
Iron Man: Rise of Technovore
Page
List of all Cast & Crew
Matthew Mercer is an American voice actor. He provided the voice of Tygra in the rebooted ThunderCats animated series and also voiced some secondary characters on the show.
Born as Matthew Christopher Miller, Mercer got into voice acting at a very early age. His first job was providing English dubbing for Japanese anime while he was still in high school. Since then he has dubbed for numerous anime shows as well as providing his voice for American animated shows and video games.
He directed and produced the web series "There Will Be Brawl" which is based on the "Super Smash Bros." video game series. In the series he voiced Kirby and Meta Knight and portrayed the role of Ganondorf. Mercer also produced the web series "Fear News with the Last Girl".
Characters VoicedEdit
Ad blocker interference detected!
Wikia is a free-to-use site that makes money from advertising. We have a modified experience for viewers using ad blockers

Wikia is not accessible if you've made further modifications. Remove the custom ad blocker rule(s) and the page will load as expected.