Melodia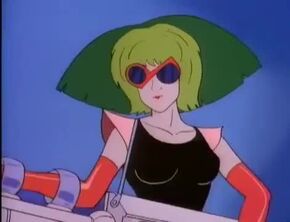 Melodia is one of the villains on SilverHawks and a member of the Mob led by Mon*Star. She is the only female member of the Mob.
The musical mistress dresses in garish and colorful clothes and accessories, similar to those of punk rock singers. Even her sunglasses have a musical note shaped frame. She assists Mon*Star in wreaking havoc across the galaxy and quite enjoys doing so.
Melodia can be considered the evil counterpart of Colonel Bluegrass as they both are singers who use musical instruments as their weapons. One time, both Melodia and Bluegrass came under the influence of a gas which could change people's nature temporarily. Bluegrass became evil while Melodia turned good, both for a short while.
Weapons and EquipmentEdit
Melodia's main equipment is her keytar which she has dubbed, the Sound Smasher. This musical synthesizer is capable of producing powerful red colored energy beam which is shaped like musical notes. This beam can have devastating effects on any opponent.
Ad blocker interference detected!
Wikia is a free-to-use site that makes money from advertising. We have a modified experience for viewers using ad blockers

Wikia is not accessible if you've made further modifications. Remove the custom ad blocker rule(s) and the page will load as expected.